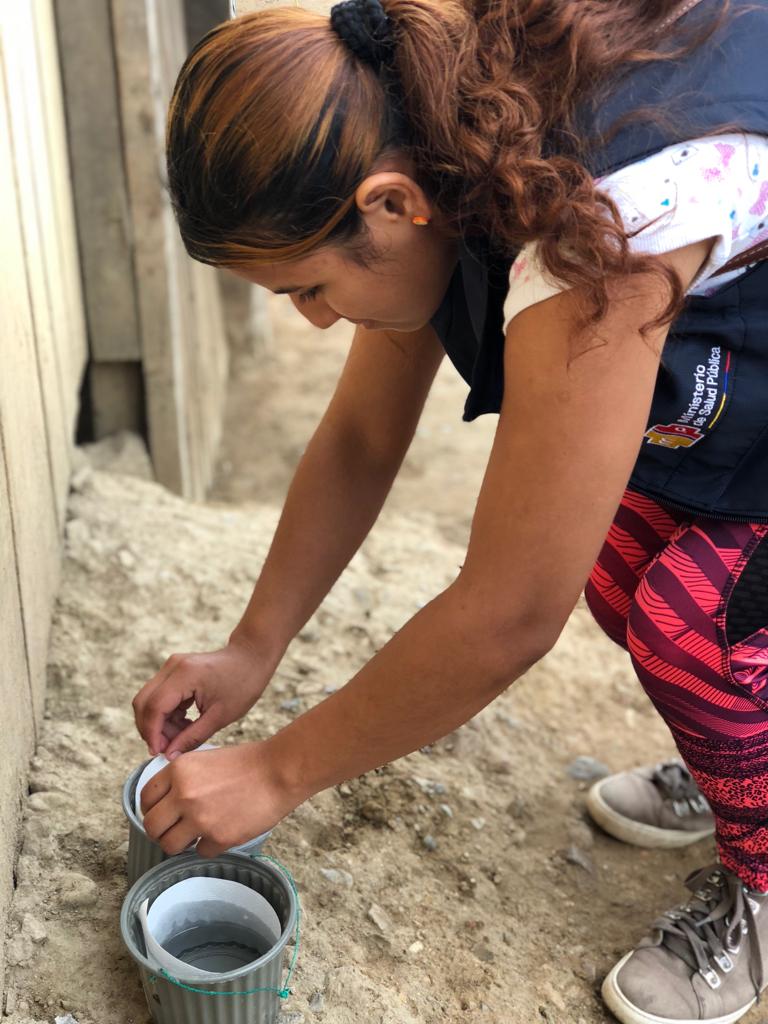 In 2016, a devastating earthquake (magnitude 7.8) struck the province of Manabí in coastal Ecuador, resulting in severe destruction, morbidity and mortality. Following the disaster, the risk of Aedes aegypti-transmitted illnesses (e.g., dengue, chikungunya, Zika) increased due to damaged housing, increased water storage, increased exposure to infectious mosquito bites, and limited access to healthcare. Following the earthquake, a major epidemic of Zika fever occurred, with 85% of cases in Ecuador reported within 100 km of the earthquake epicenter. Zika is a global health concern because it can cause a spectrum of congenital complications. Two years after the earthquake, many damaged homes are still abandoned, and these areas are not receiving mosquito control by the public health sector. We hypothesize that these abandoned areas serve as refuges during the dry season and breeding grounds during the wet season. These areas tend to have greater vegetation cover and shade, which can best provide larval habitat and refuge for adult Ae. aegypti. Thus, we choose to examine the effect of the spatial distribution of abandoned homes in a post-disaster scenario, addressing microclimate, vegetation cover and neighborhood housing conditions on larval habitat, average number of mosquito larvae/pupae/adults per site, and the prevalence of arboviruses (identified by RT-PCR) in pools of adult Ae. aegypti. These findings will improve our understanding of how abandoned sites following natural disasters may amplify human arbovirus infection risk, information that will inform interventions to reduce the risk of infectious diseases in affected communities.
Science and Outreach: Mosquitos y Yo
Mosquitos y Yo is a science and public health outreach program aimed at empowering youth to appreciate and learn about science using a hands-on approach. We instill in our students the creativity needed to question and solve real-life public health issues that are directly affecting their communities. Students participate in a mosquito ecology 10 week course where they learn about mosquitos and their circulating diseases. We run various field experiments where students learn about life cycle stages, transmission cycles, and disease prevention. The students are then brought into the field to help collect data from our current investigations as part of a citizen science initiative. This helps to refortilize the idea of the role of the field biologist. Students also learn how to record, process and analyze data. The program is run in a fun, interactive way that encourages students to come to their own conclusions about scientific processes. Fieldwork mixed with classroom time forms the perfect combination for an open setting where "tell me more" replaces "no, that's not right", and the flow of learning can take place. Additionally, Mosquitos y Yo creates youth leaders as highschool students help to lead these programs. These leaders are highly motivated young scientists that are preparing for a future in service to the public health sector.
Diabetes/Hypertension Screenings & Insulin Program
Through our insulin and hypertension screenings we are able to identify individuals with diabetes, and try to get their blood sugar/ pressure levels under control. Untreated diabetes can lead to complications such as cardiovascular issues, eye damage, nerve damage (neuropathy), kidney damage (nephropathy), and more. We educate our patients about the warning signs, risks and treatment for these conditions. Additionally, we go over best diet and exercise practices for reducing risk. Through our screenings we admit new patients into our diabetes management program. With the aid of our donors, we are able to supply our diabetic patients with insulin, educate them how to use it and about their disease, and keep their diabetes in check with regular follow ups. Each patient is provided with and trained on how to use a glucometer, and monitor their sugar levels.
Nutrition & Medicinal Community Gardens
We recently have partnered with the NGO Planet Drum to create raised bed community seed plots. These beds are filled with medicinal herbs that are open to all members of the community. As part of our preventative health measure, some of the herbs we choose are used to lower blood sugar levels, reduce cholesterol and lower blood pressure. Families are provided with a packet of the various planted herbs and their corresponding benefits. We aim to introduce 1-2 seed beds in each of our communities. We provide nutrition counseling to communities and individuals who are affected by obesity and high blood sugar levels. We aim to help patients to find diets and routines that are suitable for every lifestyle.
Emergency training
WPGI partnered with Peace in Mind (PIM-Canadian based organization) in 2017. PIM is an organization that works with communities to develop mental health educational programing to best serve individual needs. In 2016 WPGI conducted a study on various stressors related to the earthquake and found that the majority of our patients were undergoing various symptoms of trauma (nervousness, insomnia, night terrors, distraction etc.) Using the data we collected PIM was able to join us for professional training seminars with health care providers, teachers, prison staff, community members and more. We have committed to providing bi-annual trainings with community leaders and health care professionals that teach emergency mental health first aid and coping skills. Additionally, WPGI staff members have been trained and certified to deal with any problems that may arise in our communities.
Harmony and Health
According to several studies carried out by experts over the years, they have revealed that activities related to music, dance and stretching and relaxation exercises, could be very beneficial to improve or maintain good physical and mental health of a person. For this reason we have undertaken health programs using these alternative tools as music therapy, dance therapy and yoga therapy with the purpose of contributing to the decline of levels of depression, violent behavior, low self-esteem, lack of activity and in this way help improve the quality of life for the residents of the communities most affected by disasters natural, poverty, drugs and health problems .The purpose of this program is to create a safe space for youth to learn about music, while teaching them to be able to both internalize and externalize their emotion in a healthy way. Students